Willkommen auf Grammophon-Platten.de
Die Seite befindet sich aktuell im Aufbau
Wir wissen, dass es noch nicht 100% Vollständig ist. Wir arbeiten uns Stück für Stück vorwärts.
Charles Matson (Chas. A. Matson´s Creole Serenaders)
Charles A. Matson - the "little Clarence Williams" had been active in New York of the 1920s as a pianist, recording musician and booking director.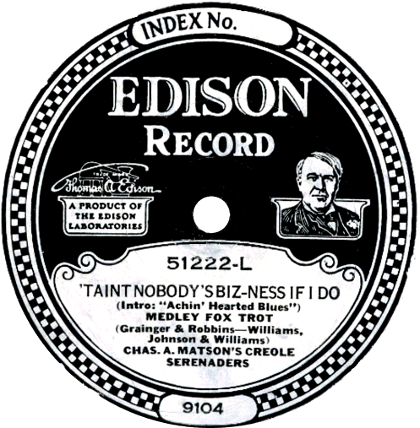 .
1892 - ? (After 1940)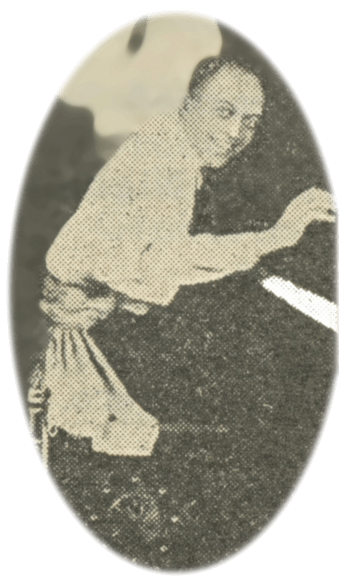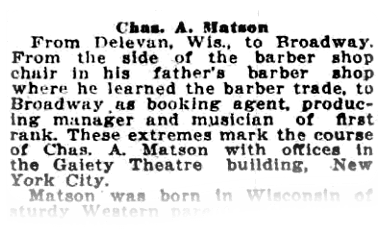 From Delevan, Wis., to Broadway. From the side of the barber shop chair In his father's barber shop whom he learned the barber trade, to Broadway.. as booking agent, production manager and musician of first rank. These extremes mark the course of Chas. A.. Matson with offices in the Gaiety Theatre building. New York City.
Matson was born in Wisconsin of sturdy Western parents. Graduating from public school. in 1910. with rinse honors, later attending Wisconsin university and the Chicago College of Music. From the Mart of his career persistency predominated. Matson must succeed In manic. He loved it. Playing in a known big musical organization was a big goal for a youngster just out of school. But it Just had to be. So Matson tackled his first big job as member of Elgars's famous Chicago band. For four years his piano playing and musical arrangements helped bring popularity and succeed to that organization.
But a bigger field called the young dreamer. New York loomed as the mecca, tor the game Wisconsin aspirant. He could lead orchestras, write music, book shows and manage theatrical I outfits now. So why stay west? To-day Matson´s name on Broadway is associated with successful revues and prominent bands. Among the later being Chick Webs. Arthur Gibbs and Buddy Fowler. Matson Is well educated, a fluent speaker. possesses business-like appearance always, and represents the class of business men, the present day demands. He ls a credit to his lofty profession and the proud parents back home both of whom are living and proud of baby boy, who stepped from the barber shop to prominence in world's largest city.
Pittsburgh PA Courier
August 6, 1927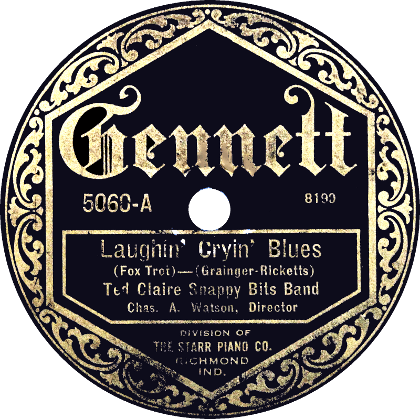 .
MAMIE SMITH vocal & Her Jazz Band
George Mullen – tp/Cecil Carpenter – tb/Bob Fuller – cl/Coleman Hawkins – ts/George Bell – vln/Charles Matson – p/Curtis Moseley – dr
New York, early May 1922
70650
Mean Daddy Blues
Okeh 4631
70651
Dem Knock-Out Blues
Okeh 4631
70654
Lonsome Mama Blues
Okeh 4630
70655
New Orleans
Okeh 4630
.
(New Orleans)
c. June 10, 1922
70729
Mamie Smith Blues
Okeh 4658
70730
Alabama Blues
Okeh 4658
Without vocals (Mamie Smith´s Jazz Hounds)
? tp/Cecil Carpenter – tb/Bob Fuller or Herschel Brassfield – as,cl/Coleman Hawkins – ts/George Bell – vln/Everett Robbins or Charles Matson – p/Sam Speed – bj/? or Curtis Moseley – dr
c. August 15, 1922
70777
Stuttering
Okeh 8036
70778
Those Longing For You Blues
Okeh 8036
.
(Stuttering)
Maybe some more sessions by Mamie Smith with Charles Matson piano.
TED CLAIRE´S SNAPPY BITS BAND (Chas. A. Watson (sic), Director)
Charles A. Matson – p, dir / c/tb/2 cl-as/vln/bj/dr
maybe Thomas E. "Petey" Hillery - cornet
New York, January 31, 1923
8190-A
Laughin´Cryin`Blues
Gennett 5060-A
Foxtrot - Grainger/Ricketts
8191-A
Four O´Clock Blues
Gennett 5041-A
Foxtrot - Dunn/Horsley
.
(Four O´Clock Blues)
CHAS. A. MATSON´S CREOLE SERENADERS
Charles A. Matson – p, dir
personnel see below
New York, July 30, 1923
9104
`Taint Nobodys Business If I Do
Edison Diamond Disc 51222
Intro: Achin Hearted Blues, Medley Fox Trot, Grainger/Robbins/Williams & Johnson/Williams
9105
I Just Want A Daddy
Edison Diamond Disc 51224
I Just Want A Daddy (I Can Call My Own) Fox Trot Thomas Dorsey
.
(I Just Want A Daddy)
EDNA HICKS vocal
Acc. Charles Matson - piano
New York, November 1923
1549
Kansas City Man Blues
Paramount 12069
1550
Uncle Sam Blues
Paramount 12069
MATSON´S LUCKY SEVEN
Charles A. Matson – p, dir /? Gus Aiken & second? – c/ ? John Mayfield – tb/ ? Ernest Elliott and/or George Scott cl-as/ Sam Speed – bj
New York, January 1924
1654-1
Lawdy Lawdy Blues
Harmograph 915
1654-3
Lawdy Lawdy Blues
Paramount 20306, Puritan 11306, Claxtonola 40306
Instrumental Blues - Ida Cox
1655-1
Jail House Blues
Paramount 20306, Puritan 11306, Claxtonola 40306
1655-2
Jail House Blues
Harmograph 915
Instrumental Blues
CLARA SMITH vocal
Acc. Charles Matson –p/Ernest Elliot – cl, as
New York, January 1924
81508
Good Looking Papa Blues
Columbia 14026-D
81509
You Don't Know My Mind
14026-D
New York, September 20, 1924
140052
The Basement Blues
Columbia 14039
140053
Mama´s Gone, Good Bye
Columbia 14039
.
(Mama´s Gone, Good Bye)
EDDIE GREEN & BILLIE WILSON vocal duet
Acc. Charles Matson - p
New York, c. June 1924
1786-2
I´m Leaving You
Paramount 12226
1787-2
I´m Sorry For It Now
Paramount 12226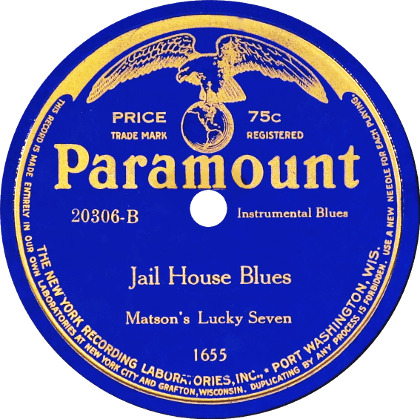 .
MAMIE SMITH
In December 1921/January 1922 blues singer Mamie Smith went on a vaudeville tour. Charles Matson put together the touring band. As the musicians are given in some newspaper articles, the personnel for the May 1922 and June 1922 recording session is relatively secured. While the tour, a very young Coleman Hawkins joined the band. As Matson had been the bandleader, it may possible, that he "discovered" Hawkins.
The personnel for the instrumental sides cut in August 1922 is unsure. According to a newspaper clipping, the band of Matson (including Coleman Hawkins) played at the "Garden of Joy" in New York. So – maybe Matson is with the recording date or some of the musicians of his band participated. Some discography's mentioned an unknown pianist for some of the next recording session (late 1922) by Mamie Smith. Matson may have participated, or not…
TED CLAIRE´S SNAPPY BITS BAND
Ted Claire was a white vaudeville act by his own. In late 1922 Ted Claire appeared with a new revue: Snappy Bits. Although a white vaudeville act, it seems he had been backed by a band of afro Americans. In the Gennett catalogue a photo of the band appeared – directed by Chas. A. Watson (sic). This is also the only knewn picture of Charles Matson(so far…).
According to some clippings, Matson played with his band till early 1923 at the "Garden of Joy", so this is potentially his working orchestra. There may be some similarities in the personnel to the sessions waxed with Mamie Smith. One of the names mentioned sometimes for the trumpet chair, is Johnny Dunn – but this is unlikely. Drummer may be Curtis Moseley. Towards some other discography's a violin is clearly audible in harmony with the clarinet. George Bell or Leroy Parker? Cornet maybe by Thomas E. "Petey" Hillery, who recorded with the
Creole Serenaders
.
???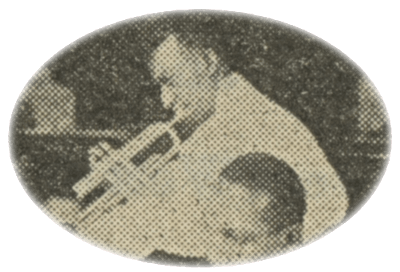 Johnny Dunn
Shortly after the recording session Ted Claire had been backed on stage by the orchestra of Anton Lada, of earlier fame with his Louisiana Five.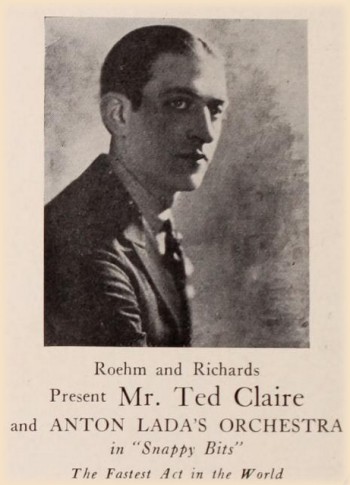 CHAS. A. MATSON´S CREOLE SERENADERS
This session for Edison had troubled collectors for a long time. Freddie Keppard had been suggested for trumpet (cornet) or Lorenzo Tio (also from New Orleans) as the clarinetist. Some believed, this is in fact "Piron´s New Orleans Orchestra" playing and recording at the time in New York. None of these...!
In spring and summer 1923, singer Daisy Martin had been backed on stage by "Chas. Matson´s Serenaders", and – we have a collective personnel!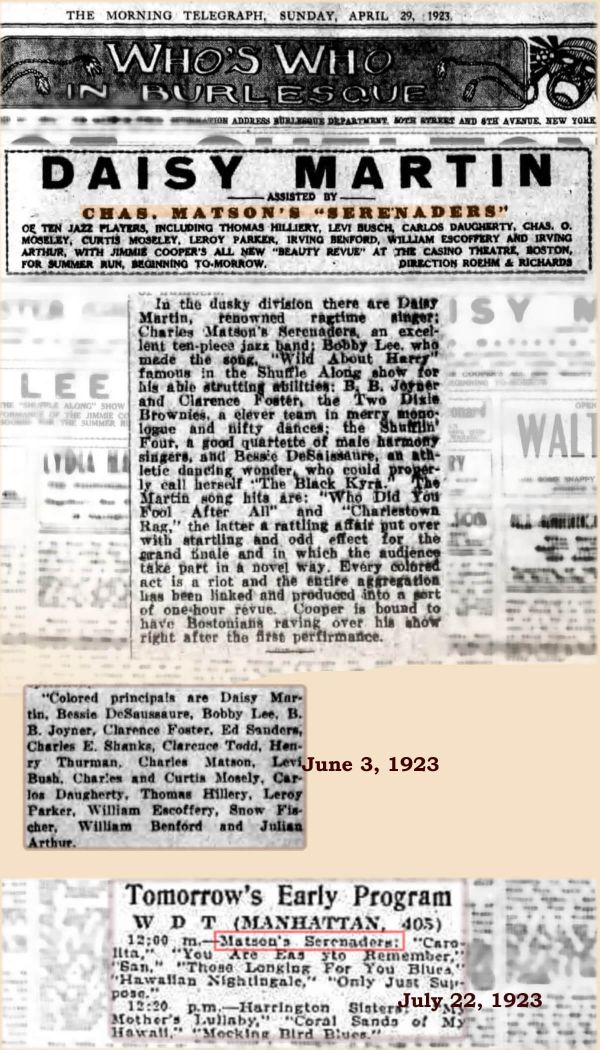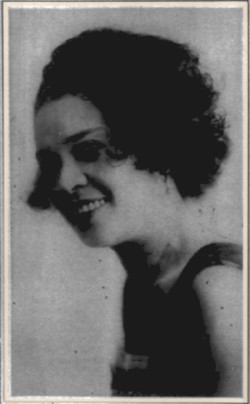 Daisy Martin
Some of them are highly unknown - others familiar. Here we go with the line-up of this infamous session:
Charles Matson - piano/leader
Thomas E. "Petey" Hillery - cornet
Carlos Daugherty – cl/sax
Charles (Chas.) O. Moseley – sax/cl (Had once been suggested for playing with "Mosby´s Dixieland Blowers" in an older issue of the "Storyville Magazine")
Julian Arthur – violin (?) or sax (?)
Leroy Parker - violin (if used with the recording)
William 'Splif' Escoffery – banjo
William "Bill" Benford – tuba
At first - a second look at the both clippings with the bandmembers: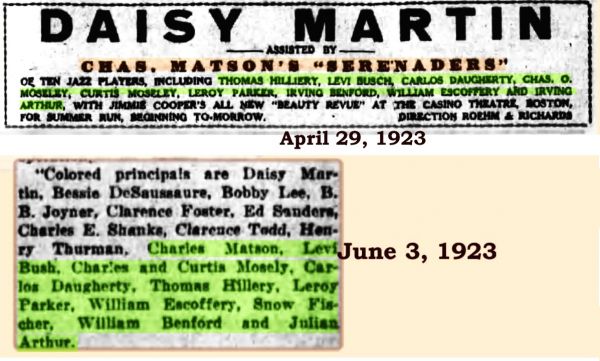 With the first (April 1923) -
Irving Benford
must be clearly a "misspelling" of William Benford. The second clipping is given the name correct as
William Benford.
The same with "Irving Arthur" = Julian Arthur.
Ok - Arthur had been a violinist - but... May it possible, that he also played one of the saxes? That hadn´t been that uncommon in these days... Also: Leroy Parker as well as Julian Arthur had been violinist – But, even for a "Serenaders Jazz Band" of this time, it is unlikely, that they had TWO violins in the band. So, I think, one played the saxophone. Julian Arthur later replaced Matson as the Bandleader with the Jimmy Cooper's Revue.
Also given - with the second clipping, "Snow Fis(h)er. There had been a "Snow Fisher" (trumpet) with the band of Noble Sissle in Paris 1929, but also a drummer and dancer of the same name in the USA and Paris around this time…I think he is the dancer Fisher and has nothing in common with the band.
OK- trumpet, trombone, third (?) sax - here we go...
William 'Splif' Escoffery (bj) was a school day friend of Duke Ellington in Washington DC. He also played, around 1917, in one of the earliest bands of Ellington. Afterwards Escoffery was the banjoist with the June Clark band in 1925 and recorded with the Gulf Coast Seven, and with some other Perry Bradford sessions.
William Benford (tuba) is the well-known tuba player, brother of Tommy Benford. He was born 1902 in Charleston, West Virginia. Benford was the brother of drummer Tommy Benford. He, like his brother, was a member of the Jenkins Orphanage band in South Carolina as a child, touring with the band in 1915 in the United States and Europe. Benford died in 1994.
Chas. O. Moseley (cl/sax) may be a relative of Curtis Moseley (or not...). At least Matson copyrighted a composition together with a C.O. Moseley in September 1923. Nothing more is known about him.
Curtis Moseley (drums) - most likely nothing in common with the drummer Curtis Mosby from Californian fame. Moseley may have been born at Decatur, Morgan County, Alabama in April 1891 and died on 23 January 1928.
Thomas E. "Petey" Hillery (Cornet) died in 1928 with the age of 28 in Baltimore. He also had been born in Baltimore.
Also, it seems, Carlos Daugherty (cl/sax) and Levi Bush (tb) had been active in Baltimore. Daugherty had been born (according to the draft card WWI) April 29, 1893 in Saint Michales, Maryland, not far from Baltimore. By the census of 1930, Levi Bush lived in Baltimore (Maryland) and had been born there around 1894. No trace of them after the early 1930s....
Julian Arthur (vln or sax), born 1896 in Lovejoy/ Illinois died 1926 in New York.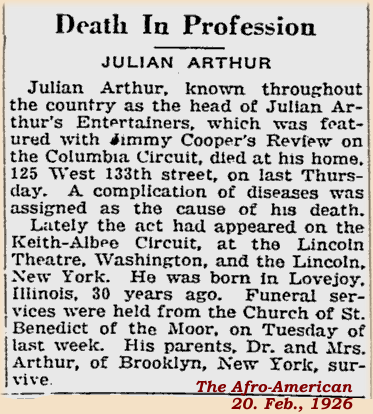 I don´t hear a violin with "`Taint Nobodys Business If I Do", but – with some passage on "I Just Want A Daddy" there may be a violin in unison with the clarinet/saxophone. Other opinions are welcome!
Also interesting: Thomas Hillery played, as seen in the clipping above, also with "Teddy Claire". Is he the same cornetist with the TED CLAIRE´S SNAPPY BITS BAND side recorded for Gennett? To my ears, he may be a good aspirant...
---
Although the personnel for Matsons last band side,
MATSON´S LUCKY SEVEN
, is only from comparison with other sides by the participated musicans, it is very likely. This applies also for Matsons accompaniment of blues singers of the day. After 1924 Charles Matson shifted more and more to the business as an booking manager. There may be some other recording sessions (after 1924) with his participation, but this is unknown.
As we learned from the article above, Charles A. Matson had been born on January 29, 1892 in Delevan, Wisconsin. The "A" in the middle of his name is ,most probably from his father Alfred Matson, born 1850 or 1852 in Kentucky. His Mother, Lettitia Matson, had been born 1861 in Tennessee. He was the second of four children. His parents had been born in slavery.
The parents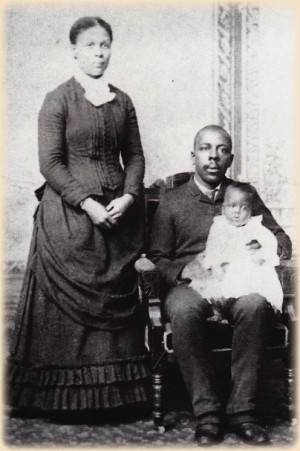 Alfred & Lettitia Matson with one of their childs
The work in his father's barbershop couldn´t last for long - Graduating from public school in 1910 he first studied at the Wisconsin university and afterwards at the Chicago College of Music. With the band of Charlie (Charles) Elgar, he got in Chicago his first, longer lasting job as a musician and arranger for the orchestra. Elgar had been back in Chicago around 1913. According to Matson´s own words he worked with the band of Charlie Elgar for about four years.
With his wife Ruthena (or Ruth G.) Matson, 2 years younger, born in Iowa, he had a little boy - Chas. A. Matson, Jr. born 14 Nov 1916. Ruthena & Charles Matson got married August 10, 1915 in Chicago. The only child of both died, just one and a half year old, on March 2, 1918 in Chicago. According to his Draft card (below) his son was 7 months old, when Matson filled the registration. That lead to a date of registration around May/June 1917.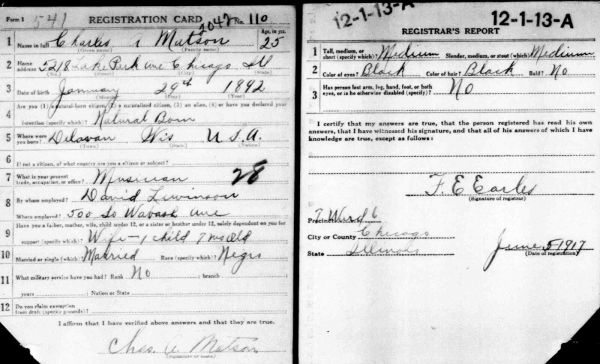 At this time he had quit with the orchestra of Charles Elgar, his last known employer in Chicago (according to his Draft Card) was a certain David Lewinson with the "Congress Café" at South Wabash Av.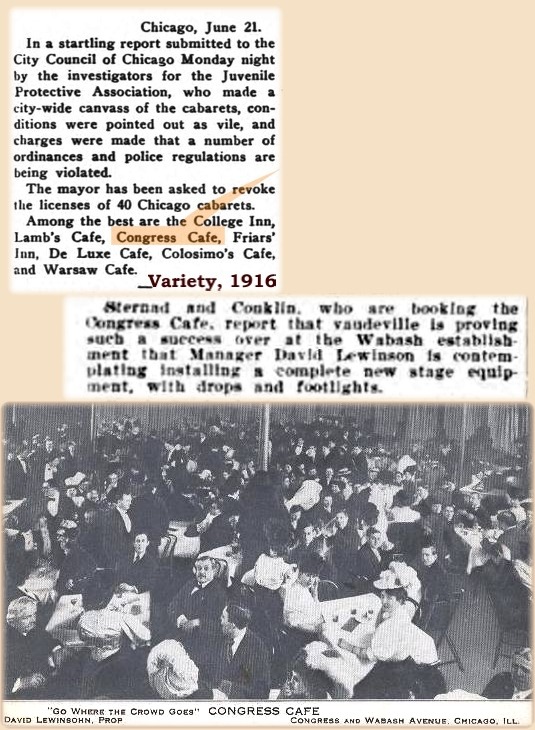 With the census of 1920 we found Matson and his wife still with a address in Chicago, shortly after he must have been moved to New York. First recordings (see above) in early 1922 (in New York) with the touring band of Mamie Smith. 1923 not only brought the "infamous" recording session as "Chas. A. Matsons Creole Serenaders", but also the registration of some compositions by Matson:
STOP SHIMMYIN´SISTER
Matson & Sidney Bechet – Sep. 27, 1923
TIA JUANA BLUES
Matson & C.O. Moseley (from his band) - Sep. 27, 1923
WINDY CITY BLUES
Matson & Wilhelmina Ranson – Nov. 10, 1923
ALL DAY LONG HE IS LISTENING TO THE RADIO
Dec. 17, 1923
In early 1923 he and his band (formerly with Mamie Smith) left the "Garden of Joy" in New York. From now on, he became more and more a business and production manager . In early 1924 he was with the publishing house of Clarence Williams in NY, summer 1924 brought his own publishing Co. and orchestra booking agency at 1547 Broadway.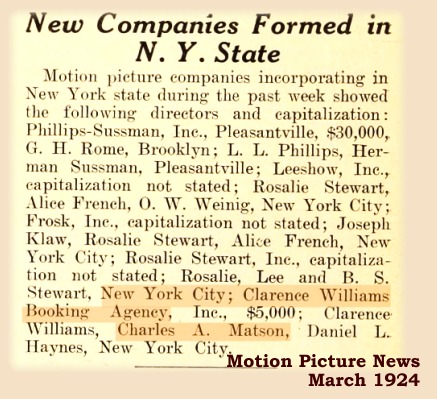 In January 1925 he led a band (Charles A. Matson´s Criterion Orchestra) at the Dreamland Ballroom in NY. With the band was Rudy Jackson (clarinet & saxophone) from Chicago. Also in 1925 he became manager of the Billy Fowler orchestra at the Club Alabam. Also around this time he managed the band of trumpet player Walter (E.) Young from Chicago ("Young´s Versatile Orchestra).
In 1926 and 1927 banjoist Buddy Christian (recordings with Clarence Williams Blue Five) played with the Matson Orchestra at the "Dreamland", West 125th street, New York. Besides the Fowler orchestra, Matson managed in 1927 also the bands of (young) Chick Webb and Arthur Gibbs. On March 1927 opened the "Sewanee Club Revue" in New York, Matson had been the director.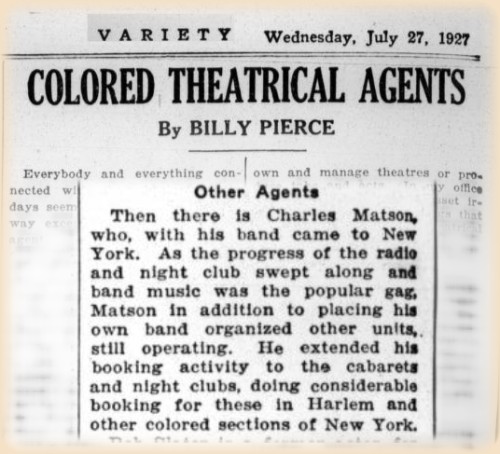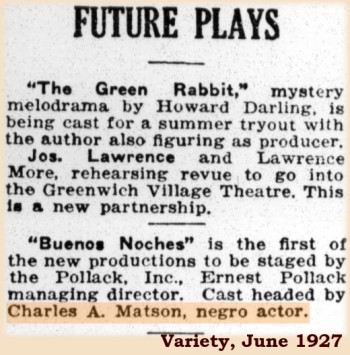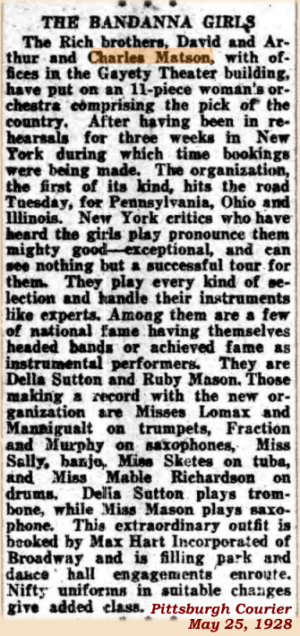 In 1928 Matson directed a ladies orchestra, afterwards it became more and more quiet around his activities. His former employer Charlie Elgar left Chicago in 1929 and teamed up in New York with his ex- employee to incorporate a booking agency: "Colored Artist Productions" (with misspelled first name of Elgar in the announcement)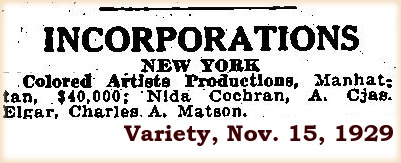 Times became hard – according to the census of 1930 Matson and his wife shared their flat with two roomers. As a musician and booking manager he is one of the last times mentioned in summer 1931. The "roaring twenties" had been ended…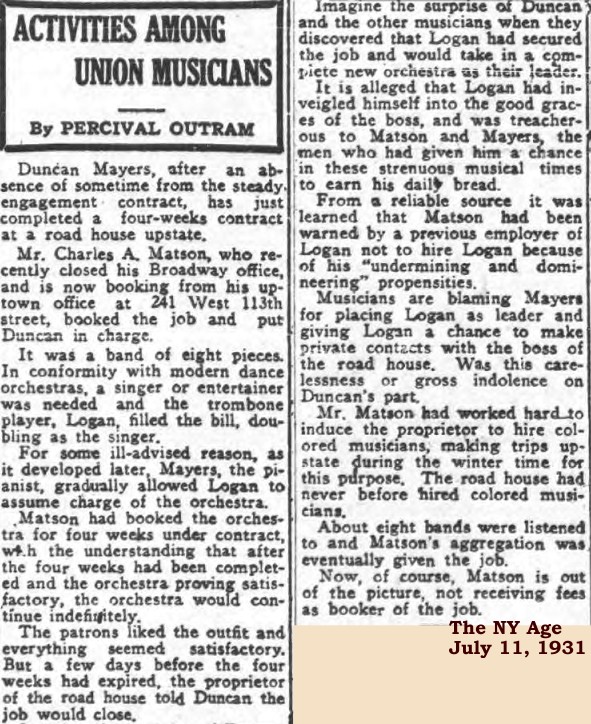 Charles was in the mid 1930s a secretary of the New York Musical Union. Ruthena Matson continued her career as a singer and dancer with Broadway productions (in 1935 she also appeared in London) till the early 1950s.
The last trace I found of Chas. A. Matson is the 1940 (April 11) census. Still living in NY, Charles Matson (musician/orchestra) and his wife (musician/singer/theatre) are now lodgers by themselves.

His wife died on December 1, 1976. Nothing is known to me about Charles Matson after the 1940s census. According to one (unverified) source, he died in 1974.
---
Other sources:
Walworth County Historical Society, "The Legacy", Fall 2012, Alfred Matson - THE MATSON FAMILY
You must be logged in to make comments on this site - please log in, or if you are not registered click here to signup
Über Uns
Wir sind mehr als ein Forum! Als eingetragener Verein, arbeiten wir an der Beständigkeit unseres Lieblingshobbies.
Über uns
Wir suchen Dich!
Social Media Beauftragter gesucht. Du kennst dich mit Social Media aus? Melde dich bei Interesse gerne bei uns, wenn du Interesse hast.
Antreten
Optimierung
Noch nicht alles rund auf der Webseite? Dann reiche jetzt dein Problem ein und wir versuchen dir zu helfen!
Kontakt