Register & Terms of use
GrammophonTeam, Sun Nov 29 2015, 21:30pm
You would like to get in contact with other collectors all over Europe? Here´s your chance…

Of course you may write in all parts of our forums after you registered. But, if you aren't that fit with the German language, you could use our International Board. Ok, here we go with the rules of the game...
By accessing "grammophon-platten.de", you agree to be legally bound by the following terms. If you do not agree to be legally bound by all of the following terms then please do not access and/or use "grammophon-platten.de". We may change these at any time and we'll do our utmost in informing you about that.
You agree not to post any abusive, obscene, discriminatory, vulgar, slanderous, hateful, threatening, sexually-orientated or any other material that may violate any laws be it of your country, the country where "grammophon-platten.de" is hosted or International Law. Doing so may lead to you being immediately and permanently banned, with notification of your Internet Service Provider if deemed required by us. The IP address of all posts are recorded to aid in enforcing these conditions. You agree that "grammophon-platten.de" have the right to remove, edit, move or close any topic at any time should we see fit. As a user you agree to any information you have entered to being stored in a database, also after you left "grammophon-platten.de". While this information will not be disclosed to any third party without your consent, "grammophon-platten.de" shall not be held responsible for any hacking attempt that may lead to the data being compromised.
Respect the copyright of others, also other websites. Please don´t post pictures you haven´t the copyright to them. Before you use pictures from other sites, ebay or actual books and so on, ask the copyright holder for permission. Eventually we ask about that.
Please
- no discussions about politics & religion, no Flame-Wars or offending posts/topics against others.
Stay polite, cooperatively and fair


Thanks!

Re:
Register & Terms of use
GrammophonTeam, Tue Dec 08 2015, 11:00am
To complete the form, here are some hints about that:
(All boxes marked with a

*

are mandatory fields)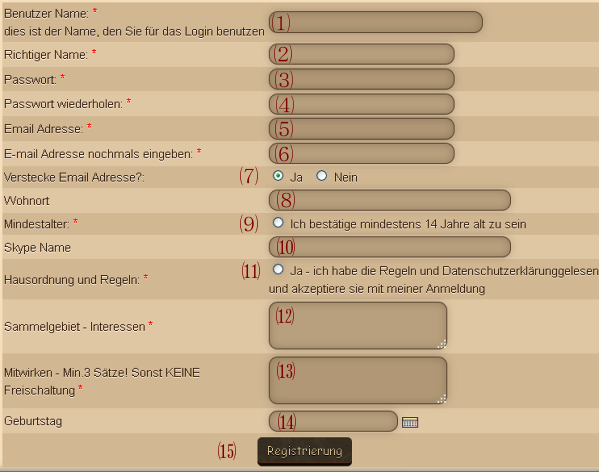 Your username – this is the name you use for login. Two words must be connected by a dash, e.g. Hans_Meier but not Hans Meier!


Your real name (Only visible to other members!)


Password (PW)


Please repeat PW


Your E-Mail


Please repeat E-Mail


Do you want to hide your e-mail for other members? Preset is YES (Ja).


The place you living (optional)


Please confirm that you are at least 14 years by age.


Your skype name (optional)


Please confirm that you read our Terms of use and will respect them.


What is your main interest with our hobby – records, machines, artist? Please tell us in a few words.


Why do you want to participate with our site? Please tell us in some words.
(This is to prevent spam registrations – only visible to the admins)


Your Birthday (optional)


Press this button to send us your registration. It will be activated by a admin within some hours or asap. You´ll receive a mail after your account is activated.